This low calorie dessert is a retro classic and virtually sugar free!
Sugar free, but still full of sweet nostalgic flavour, this iced tray bake really hits the spot. For under 60 kcal a piece and virtually zero sugar, you'll be amazed how fantastic these taste. 
Fuss-free retro desserts without the calories
Inspired by school dinner classics, this tray bake is a fuss-free way to get delicious cake on to your plate and into your belly. Line a rectangular (a brownie tin works perfectly) and add your cake mixture. While it bakes, mix some powdered erythritol, creme fraiche and water to create an icing. If following keto, set up the icing with a little xanthan gum, or if not worried about a little starch, use cornflour. The hundreds and thousands are an optional decoration and the only sugary addition if using. 
Ingredients
Serves 6
1 Lo-Dough vanilla sponge mix
240g of water
4 tablespoons of erythritol
2 tablespoons of half fat creme fraiche
Thickener (xanthan or cornflour both work)
Water to loosen the icing
100s and 1000s (optional)
What you'll need
This diet-friendly recipe is possible with:

Lo-Dough Vanilla Sponge Mix
Regular price
£2.50
£5.49
Out of stock
Method
Make up the Vanilla Sponge Mix according to the packet instructions (Oven preheated at 180C).
Bake the mix in a square/ oblong tray for 35 minutes, then allow to cool, again as per the instructions.
While the cake bakes, mix up the erythritol, creme fraiche and thickener and loosen to a desired consistency with water. Drizzle over the top and decorate with sprinkles if your diet allows the sugar.
If looking for a healthy, colourful decoration, freeze some raspberries and smash them up into individual seeds for small, red-jewel decorations.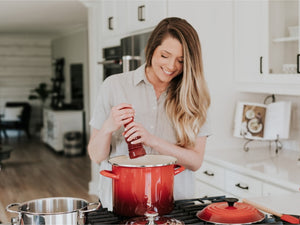 Hungry for more recipes?
Join over 200,000 subscribers in receiving new recipes, tips, offers and a whole lot more.