The Low-Calorie Version Of A Takeaway Classic
Much like pineapple, sweetcorn is another divisive pizza topping addition. Well, we say it's horses for courses and when paired up with salty tuna and rich mozzarella cheese, the addition is a thoroughly sound one! 
One of the joys of this recipe is its utter simplicity. For a start, it uses two, ready-to-eat canned products - tuna and sweetcorn. Standard store cupboard ingredients, that with a bit of care and love, can be turned into a delicious meal. While low calorie and healthy in themselves, putting them onto a regular pizza or a sandwich made with traditional bread will ramp up the carbs and thus calories of the meal. By switching out the pizza dough/bread for Lo-Dough, this problem simply disappears, giving you plenty of leeway to add lots of lovely cheese and turn a low-calorie meal into something truly indulgent.

Low-Calorie Pizza Indulgence 
So, what are the macros we hear you ask? Well, for the whole pizza, you are looking at 322 calories, 9g of carbs (mostly coming from the sweetcorn), 16g of fat, 29g of protein and 11g of fibre. Can pizza be healthy? We certainly contend that it can! 
If looking for a lower fat cheese, there are many versions out there, but we think that if you are making the kinds of calorie savings Lo-Dough allows, you have room to play calorie-wise and you should treat yourself to something incredibly indulgent and tasty - no need for compromising on taste! 
Thinking about pizza? Best think about Lo-Dough PIzza and you'll stay on whatever diet plan you happen to be following. 
Ingredients
Serves 1
1 piece of Lo-Dough
75g of grated mozzarella
30g tinned tuna, drained
20g of tinned sweetcorn, drained
2 tablespoons of passata
What you'll need
This diet-friendly recipe is possible with:

Original Lo-Dough Bases
Regular price
from £3.49
Out of stock
Method
Preheat your oven to 250°C/475F/Gas 9.
Put the Lo-Dough onto a cooking mesh/grill bars/pizza stone/air-fryer stand. Spoon the passata onto your Lo-Dough, making sure to spread it right to the edge.
Add the mozzarella on top, distributing as evenly as possible. Then add your tuna and sweetcorn, again, in a even spread.
Bake in your oven for 7-10 minutes, or until golden and bubbling. Serve straight away.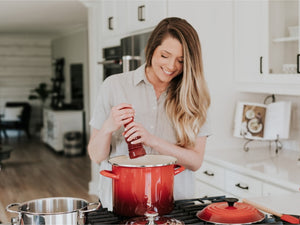 Hungry for more recipes?
Join over 200,000 subscribers in receiving new recipes, tips, offers and a whole lot more.