The High-Protein Burger That Ticks All The Nutritional Boxes
This low-fat twist on the classic burger certainly doesn't go wanting in the flavour department. For a start, the turkey mince is generously seasoned and mixed with finely chopped onion and garlic. Then, just to make sure it's utterly delicious, it is stuffed in the middle with Eatlean Protein cheese. It is then adorned with beautiful fresh salad and tangy gherkins. Lastly, it's dressed up with a blob of mayonnaise and a blob of BBQ sauce. Like we said: D.E.L.I.C.I.O.U.S. Here's the rub - all that fantastic flavour comes in at just 238 calories and 7g of carbs. Plus, it contains a massive 41g of protein. Pretty cool right? 
As ever - the real magic here is being done by the Lo-Dough. Practically fat and carb-free and only 39 calories (actually more like 26 if you make the burger pocket), this bread alternative lets you make huge savings where normal bread would cost you.
Lo-Dough - The Versatile Low-Carb Bread Alternative
There are a number of ways to enjoy a burger using Lo-Dough. Here are a few of our favourites.
1. Mould your burger into a longer, 'torpedo' shape and have it rolled in a wrap with all the usual accompaniments. 
2. Cut the two sides of your Lo-Dough off (remember to blitz to a crumb and keep in the freezer for other recipes - or mix in with your burger mince for an extra boost of fibre). Fold over with your burger and salad to create a pocket. 
3. Cook your burger and place in the centre of your Lo-Dough, on top of some cheese. carefully fold in the Lo-Dough five or six times to create what we call the star fold, place into a sandwich press (or push down on a griddle) to 'set' the Lo-Dough into position.
Whichever way you make it, Lo-Dough burgers are the future - fewer carbs mean fewer calories and this can all be achieved without compromising on taste. 
Ingredients
Serves 1
1 piece of Lo-Dough
100g of turkey breast mince (lean turkey mince)
⅓ of an egg, beaten
1 clove of garlic, crushed
20g of Eatlean Cheese
A few leaves of lettuce
1-2 rings of red onion
1 slice of tomato
1 large gherkin, finely sliced
A blob of low-fat mayo
A blob of Blend Bros BBQ sauce (or any other BBQ sauce)
4 sprays of fry-light
Salt & pepper
What you'll need
This diet-friendly recipe is possible with:

Original Lo-Dough Bases
Regular price
from £3.49
Out of stock
Method
Mix the mince, the egg (the 1/3 of an egg is for one burger - triple the amount of mince and use a full egg to make a couple of extra burgers) and the garlic in a bowl. Form into burger patties. Make a well in the middle of each and stuff with a little cheese and then fold over.
Griddle or grill your burger with a couple of sprays of oil until cooked through.
Using any one of the methods above, arrange your burger, salad and condiments and serve.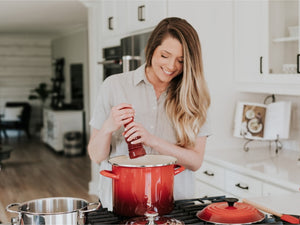 Hungry for more recipes?
Join over 200,000 subscribers in receiving new recipes, tips, offers and a whole lot more.