Low calorie vegetarian bean burgers full of taste
 High street bean burgers and veggie burgers are made into a super healthy meal when done with Lo-Dough. Low-calorie, low-fat, high-protein, super nutritious veggie meals done with very little effort.
These spicy Mexican-style beans burgers are twice the size (210g of burger - almost twice the weight of a quarter-pounder), and nearly half the calories of the shop bought veggie burger counterparts. They are so hearty and tasty and can be served alongside salsa and salad to create a balanced and nutritious lunch.
It's just 145 calories!
At this many calories to enjoy a veggie burger, feel free to add a nice blob of sour cream alongside it guilt free.
See more super healthy vegetarian recipes here. 
Our thousands of Lo-Dough users swear by these nutritional, low calorie alternative meals. Whether you are slimming for focused on your fitness and nutrition, going Lo-Dough can be a real game changer.
Ingredients
1 piece of Lo-Dough, blitzed to a crumb
100g mixed bean salad from a tin, drained and lightly crushed with a fork
1 large egg white
20g of quark
2 spring onions, finely chopped
1 clove of garlic, crushed
5g (a small handful) of coriander
Half a red chill, finely chopped
Half a teaspoon of smoked paprika
Half a teaspoon of cumin
Half a teaspoon of tumeric
6 sprays of fry-light
Salt & pepper
What you'll need
This diet-friendly recipe is possible with:

Original Lo-Dough Bases
Regular price
from £3.49
Out of stock
Method
Add your all the ingredients to a bowl and mix well. Form into a burger,.
Oil a pan with the fry-light and on a low to medium heat and fry the burger for approx. 3-4 minutes on each side.
Serve with salad, tomato salsa (toms, lime, coriander, garlic, chilli and spring onion) and a blob of sour cream.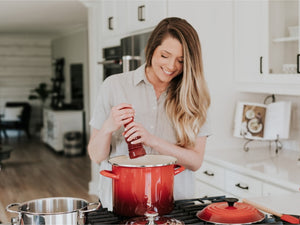 Hungry for more recipes?
Join over 200,000 subscribers in receiving new recipes, tips, offers and a whole lot more.