The 102 calorie veggie kebab wrap is here
Finding a decent meat substitute to give you that textural, flavoursome chew can be tough, but we tried out some of Oumph's 'The Chunk' product  and found it totally hit the spot. Combined with a Lo-Dough wrap and some healthy, nicely seasoned, grilled vegetables, we have devised a delicious veggie kebab wrap that costs you just 102 Calories and 3g of Carbs. It's fresh, it's tasty and you just know it's doing you good.
This one could be a great one for any veggies at a BBQ.
Make the recipe work for you
Add a drizzle of your favourite sauce to bring even more flavour to this recipe, but watch for the calories and carbs. If on a ketogenic diet, go heavy on the mayonnaise and avoid sweet, carb-laden sauces.
Lo-Dough is:
Gluten free
Fat free
Sugar Free
High protein
Dairy Free
Vegetarian
Only 39 calories per piece
Try your £5 sample pack today and make pizzas, wraps, desserts and pastry like never before. Shop now 
Ingredients
Serves 1
1 piece of Lo-Dough
50g of Oumph's 'The Chunk'
40g Red Pepper
2 cherry tomatoes
1 spring onion
1 mushroom
25g of mixed salad leaves
6 sprays of spray oil
Salt & pepper
What you'll need
This diet-friendly recipe is possible with:

Original Lo-Dough Bases
Regular price
from £3.49
Out of stock
Method
In a pan, add some fry light and start frying off your Oumph.
Preheat your grill, or a griddle pan.
Place the vegetables on the skewers in any order you like.
Spray the skewered vegetables with spray oil and place under your grill or on your griddle.
When the Oumph is ready, take out it out, put it on a plate and cover with foil. Wipe the pan and use it to toast your Lo-Dough briefly.
Place all the finished ingredients on a platter, build your wrap and enjoy.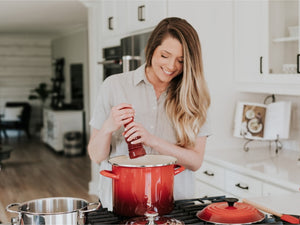 Hungry for more recipes?
Join over 200,000 subscribers in receiving new recipes, tips, offers and a whole lot more.