Low-calorie Mexican Inspiration. These Quesadillas are mind-meltingly good!
These cheesy, veggie mince quesadillas are an indulgent and surprisingly low-calorie, dinnertime treat. The recipe is simplicity at its best and is super easy to scale up if feeding friends or family. 
Serve with your favourite Mexican sauce, dips and side salad for a perfectly balanced, complete meal. Alternatively eat hot or cold as a quick and simple lunch. 
Ingredients
Serves 2
2 pieces of Lo-Dough
100g of veggie mince
100g of mixed frozen veg
A sachet of Mexican-style seasoning
100g of grated cheese
A handful of fresh coriander
Salt & pepper to taste
6-8 sprays of oil
What you'll need
This diet-friendly recipe is possible with:

Original Lo-Dough Bases
Regular price
from £3.49
Out of stock
Method
In a large frying pan, in the spray oil, fry the veggie mince and all the chopped vegetables for 10 minutes on a medium heat, stirring regularly. Then add the seasoning and cook for a further 2 minutes, seasoning to taste.
Add the cooked veg to a bowl and mix in the grated cheese.
Add plenty of filling to half of a piece of Lo-Dough and fold over, as if making a toastie. Lightly wrap the whole thing in foil and place in a medium oven for approx. 20 minutes. Repeat for the second quesadilla.
Take out from the foil, cut each quesadilla in half and serve alongside any accompaniments you like. Suggestions in description.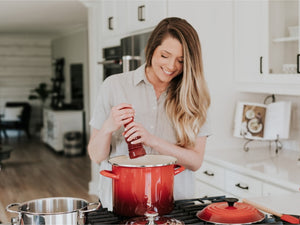 Hungry for more recipes?
Join over 200,000 subscribers in receiving new recipes, tips, offers and a whole lot more.