Pizza fusion at it's finest - low-calorie and low-carb to boot
Veggie rejoice! This pizza is a bonafide flavour sensation. You can pick your own veggies—we've gone with mushrooms, onions peppers and broccoli. Replace the standard passata with your favourite curry sauce and swap out the basil for coriander. Serving all this with melted cheese might sound a little crazy, but trust us, it works a treat! 
Ingredients
Serves 1
1 piece of Lo-Dough
30g of curry sauce
70g of grated mozzarella
20g of broccoli, broken into small florets
10g of red pepper, thinly sliced
2 button mushrooms, thinly sliced
10g of red onion, thinly sliced
What you'll need
This diet-friendly recipe is possible with:

Original Lo-Dough Bases
Regular price
from £3.49
Out of stock
Method
Preheat your oven to 250°C/475F/Gas 9.
Spread the curry sauce across the Lo-Dough in a thin layer, right up to the edge.
Top with 70g of mozzarella, then add the vegetables.
Put the pizza in the oven for 7-10 minutes or until golden and bubbling.
Serve with a crack of black pepper and sere with a few leaves of coriander.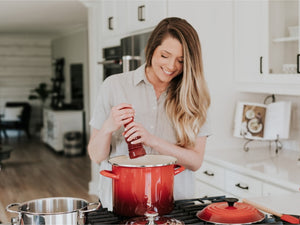 Hungry for more recipes?
Join over 200,000 subscribers in receiving new recipes, tips, offers and a whole lot more.