Low-calorie dessert recipes couldn't really be any easier
The pleasures of a sumptuous festive strudel are truly a joy to behold. The taste of the buttery pastry melting in the mouth, the warm spiced apples as they merge with heady christmassy flavours of cinnamon and nutmeg. The only problem? We're looking at over 200 calories for a little tiny slice and who wants a little tiny slice? Not us.
It's no wonder we each pile on an average of 7lbs over the festive season. Come January, it's easy to regret our overindulgences, but by getting creative in the kitchen it can be quick and easy to conjure up some cracking alternatives that are on plan and taste every bit as good as the real thing.
The trick to this recipe is to use a rolling pin to roll the Lo-Dough really flat. This transforms it from a soft fluffy bread like texture to that of a delectable shortcrust pastry.
Lo-Dough makes for a great alternative to using fat laden pastry and this is where the major savings in terms of calories come from. Team this up with some Skinny Syrup to provide that extra sweetness and you're onto a winner. Each slice contains only 122 calories, quark cream included. 
This Lo-Dough Christmas Strudel is a cinch to make, with the only tricky bit being folding it together, but if you take a bit of care, you should be fine and dandy. To make a whopping 12-inch strudel you need 3 pieces of Lo-Dough, a rolling pin and a little splash of water.
Ingredients
Serves 4
3 pieces of Lo-Dough
75g mixed berries (raspberries, blackberries and blueberries)
200g diced cooking apples
100g diced pear
1 tsp cinnamon
1 tsp nutmeg
2 tbsp Skinny Syrup (we used Salted Caramel, but any flavour would work a treat)
Butter Frylight
Sukrin Icing sugar to garnish
For the cream
300g plain quark
2 tbsp Skinny Syrup
What you'll need
This diet-friendly recipe is possible with:

Original Lo-Dough Bases
Regular price
from £3.49
Out of stock
Method
Using a rolling pin, roll out each piece of Lo-Dough onto a clean flat surface. The Lo-Dough shouldn't stick so no need to worry about adding flour. Press firmly and keep rolling until each piece is well flattened and starts to feel like pastry. Now place the three pieces of Lo-Dough together in a row with a 3 inch overlap and moisten them lightly at the joins. Now roll these flat together, the moisture should be just enough to stick them together.
Place your berries, apples, pear, cinnamon and nutmeg into a saucepan with the Skinny Syrup and a couple tablespoons of water and cook on a medium heat for approx 10-15 minutes or until softened through.
Lay out the Lo-Dough on a sheet of aluminium foil with a couple of sprays of Frylight.
Once cooked, spoon the mixture directly into the centre and along the length of the Lo-Dough, leaving enough space to fold the sides over.
Carefully fold the Lo-Dough over the mixture in the centre fold and tuck in the ends. Use a drop more water to help it stick if needed. See pic of finished roll.​​.
Cover with the whole thing with a good few sprays of Butter Frylight.
Wrap the strudel in the foil it is sitting on and loosely scrunch the foil over the top.
Pop the strudel into an ovenproof dish, and place in the centre of the oven. Bake for 25-30.
Take the strudel out of the oven and open up the foil, then pop it back in the oven for another 5-10 mins until golden brown.
Time to serve your Lo-Dough strudel, we teamed it up with a fat free Quark based cream. Mix the Quark with Skinny Syrup and nutmeg together thoroughly in a bowl and treat yourself to a cool dollop to perfectly balance the warming winter spiced flavours of the strudel. We then sieved a light dusting of sugar free icing sugar over the top to give it a lovely festive finish.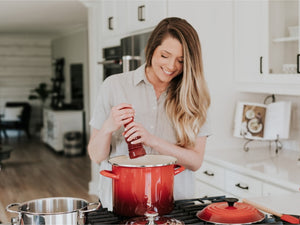 Hungry for more recipes?
Join over 200,000 subscribers in receiving new recipes, tips, offers and a whole lot more.