Check Out This Low-Carb, Veggie Bianca Pizza!
This bianca pizza (white base sauce, instead of the more common tomato) is a tasty treat and perfect for vegetarians and confirmed carnivores alike.  
The sauce is a mix of cream cheese and creme fraiche and this is topped with mozzarella, smokey griddled aubergines and pesto. Finished with a few leaves of peppery rocket, we're sure you can imagine the kind of taste sensation you are gonna be in for!
If following a keto diet, this pizza would be ideal for you, coming in under 10g of carbs for the whole thing! If you aren't keto and are looking to keep the calories down, you can find reduced fat creme fraiche, cream cheese and pesto. 
Ingredients
Serves 1
1 piece of Lo-Dough
70g of grated mozzarella
1 tablespoon of creme fraiche
1 tablespoon of cream cheese
80g of aubergine, cut into slices the thickness of a pound coin
25g of pesto
What you'll need
This diet-friendly recipe is possible with:

Original Lo-Dough Bases
Regular price
from £3.49
Out of stock
Method
Preheat your oven to 220°C/Gas 7.
Mix the cream cheese and creme fraiche on the smooth side of your Lo-Dough, spreading right to the edge. Then add your cheese, again, right to the edge.
Quickly griddle your aubergine slices, to give them some nice char marks.
Add them to the top of the pizza, followed by little blobs of pesto here and there. If needed, loosen the pesto with a little splash of water to make it easier to drizzle around the pizza.
Bake in your oven for 7-10 minutes, or until golden and bubbling. Serve straight away.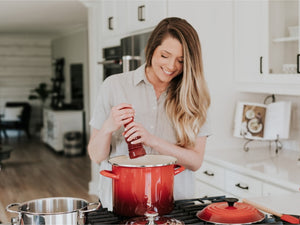 Hungry for more recipes?
Join over 200,000 subscribers in receiving new recipes, tips, offers and a whole lot more.