An incredible feast of a wrap and perfect for a low-carb diet! 
In the summer months, there is nothing quite like getting out the BBQ and cooking over coals! It's a healthy way to cook, it adds flavour and it's a great excuse to get outside. 

So this wrap - we're talking smokey, succulent lamb, and credible, flavoursome low-carb slaw, fresh salad and the all-important low-carb, high-fibre hit provided by Lo-Dough! It all makes for one hell of a meal and one that will satisfy your tastebuds and diet alike!
To make the slaw - shred a whole bulb of fennel,  half a red cabbage, half a celeriac and a couple of spring onions with a mandolin or knife - our you can even just coarsely grate them. Mix mayo, a little whole grain mustard, a little seasoning - and get this... a tablespoon or 2 of pickle juice to loosen and then stir through the veg. Trust us - it's delicious. It's not just for lamb - it'll work fantastically with meat, fish or even just a part of a veggie salad.
If the weathers not so great, this recipe works brilliantly with grilled steaks or even re-heated lamb from a roast dinner. 
Ingredients
Serves 1
1 Lo-Dough base
Approx. 80g of cooked lamb, sliced
80g coleslaw
A few salad leaves
A cherry tomato, sliced
A few slices of cucumber
A little chilli sauce (if desired!)
What you'll need
This diet-friendly recipe is possible with:

Original Lo-Dough Bases
Regular price
from £3.49
Out of stock
Method
Cook your lamb on your bbq or in a pan (or use leftovers and re-heat). Cook to your desired doneness.
Mix your slaw as above.
Roll out your Lo-Dough to make a thinner tortilla wrap and add the salad slaw and cooked lamb. Add a little chilli sauce if desired. Roll up and enjoy!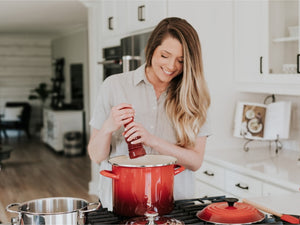 Hungry for more recipes?
Join over 200,000 subscribers in receiving new recipes, tips, offers and a whole lot more.