Make This Indulgent Low-Carb Toastie With Lo-Dough
Just 5 carbs for an amazing toasted sandwich? Oh yes... If you ditch the bread and bring on the Lo-Dough, this hot beef, tomato and melting cheese masterpiece (spiked with a little hot English mustard) ss all yours for just the 5 carbs.
Not only that, but it's also under 400 calories and contains only 2g of sugar (mostly coming for the tomatoes!) Finally, it delivers one-third of your recommended daily fibre intake. 
But aside from all that it just tastes so damn good! 
Ingredients
Serves 1
1 piece of Lo-Dough
3 thin slices of roast beef
50g of grated mozzarella cheese
2 cherry tomatoes, thinly sliced
A little English mustard (optional)
Spray oil
What you'll need
This diet-friendly recipe is possible with:

Original Lo-Dough Bases
Regular price
from £3.49
Out of stock
Method
Preheat your sandwich press/griddle.
Add your beef, tomatoes and cheese to one half of the Lo-Dough, smear some mustard on the other half (if using) then close over the lid half of the Lo-Dough.
Spray the sandwich press/griddle with oil, place your Lo-Dough sandwich in and close the press.
Cook for 3-4 mins and serve.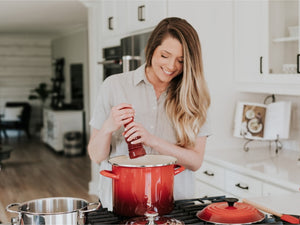 Hungry for more recipes?
Join over 200,000 subscribers in receiving new recipes, tips, offers and a whole lot more.