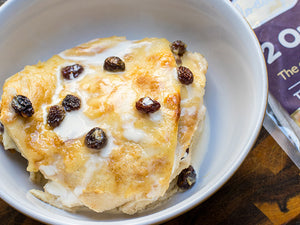 gluten-free
vegetarian
Low-Carb & Low Calorie Bread and Butter Pudding
Share
Facebook
Twitter
WhatsApp
Email
Serve this low-calorie dessert hot or cold; you will not be disappointed! 
Comforting puddings don't come much more perfect than this. Our low-sugar version with blow your minds—not to mention, fill your bellies. Light yet satisfying, low-calorie yet indulgent and perfect hot or cold, this dessert really does have it all. To make this one keto-friendly, simply remove or reduce the portion of dried fruit.
It's another classic pudding—a simple, satisfying and delicious dessert made incredibly low-calorie and low-carb, all thanks to Lo-Dough. 
Ingredients
Serves 2
1 piece of Lo-Dough
2 large eggs
80ml of cream
60g of erythritol
The seeds from a fresh vanilla pod
Approx 30g (a handful) of sultanas
What you'll need
This diet-friendly recipe is possible with:

Original Lo-Dough Bases
Regular price
from £3.49
Out of stock
Method
Preheat your oven to 160C/Gas 2. In a sauce pan, gently heat up the cream with the split and deseeded vanilla pod until just too hot to touch.
While the cream/milk is heating, whisk the eggs and sweetener thoroughly.
Pour the hot cream/milk over the egg mixture, whisking the whole time.
Pour the custard mix back in to the original pan, but through a sieve to catch the vanilla pod. Gently heat for a little while longer, while stirring, just to thicken a little.
Cut your two piece of Lo-Dough into quarters and layer up in a baking dish with the sultanas.
Pour in the custard mix, place the tin in the oven and bake gently for 30 minutes. Serve hot or cold!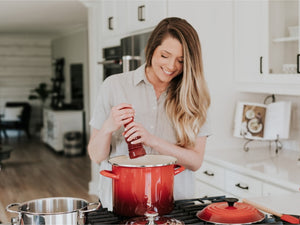 Hungry for more recipes?
Join over 200,000 subscribers in receiving new recipes, tips, offers and a whole lot more.