Start Your Day With A Low-Carb Toastie!
Nothing beats a solid breakfast to get the day off to a good start - on our take on the bacon, sausage and egg butty (with added cheese and tomato) will do just that! The only difference is - ours is low in carbs, low in calories and packed with so much fibre that it will stave off hunger for the rest of the morning! 
While you grill off your bacon and sausages, get your Lo-Dough soaking in the egg. That's right - the egg component of this sandwich is soaked into the Lo-Dough itself - making this a cross between a toastie and French toast. 
Delish!
Ingredients
Serves 1
1 piece of Lo-Dough
2 sausages (look for lower carb options), cooked
2 slices of pancetta, cooked
1 small egg, beaten
30g of grated mozzarella
4 cherry tomatoes, halved
Spray oil
What you'll need
This diet-friendly recipe is possible with:

Original Lo-Dough Bases
Regular price
from £3.49
Out of stock
Method
Soak your Lo-Dough in the egg for a minimum of 20 minutes.
Add your sausages, pancetta, cheese and tomatoes to one half of the Lo-Dough, then close over the lid half of the Lo-Dough.
Put a pan on a low-heat and carefully place the Lo-Dough sandwich in it. You may need to hold the lid half in place with a spatula until it 'sets'.
Cook for 2-3 mins on each side and serve.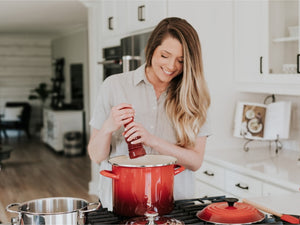 Hungry for more recipes?
Join over 200,000 subscribers in receiving new recipes, tips, offers and a whole lot more.