Keep all of the taste, but slash the carbs of your favourite BBQ sandwiches with Lo-Dough.
Brisket is a BBQ classic. Juicy, smokey, deeply flavoured beef, ready to be stuck between two slices of bread and devoured. 
But wait, what if you are on a low carb diet or keto diet (or just looking to cut a few calories for that matter)? Don't worry, Lo-Dough has the answer. Our wraps absolutely decimate all other breads and wraps. At just 39 calories per piece and just 2.2g of carbs, you can fill one with all the delicious food you like and still stay on plan with your diet! 
You can find many recipes for brisket online or even buy it ready cooked to finish on the BBQ.
Ingredients
Serves 1
1 piece of Lo-Dough
100g barbecued brisket, sliced
50g of slaw (or mixed salad if desired)
A few gherkins, sliced
A blob of yellow mustard
What you'll need
This diet-friendly recipe is possible with:

Original Lo-Dough Bases
Regular price
from £3.49
Out of stock
Method
Arrange all the ingredients on the Lo-Dough. Season to taste, roll and serve.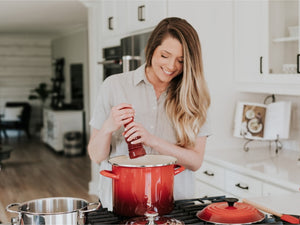 Hungry for more recipes?
Join over 200,000 subscribers in receiving new recipes, tips, offers and a whole lot more.