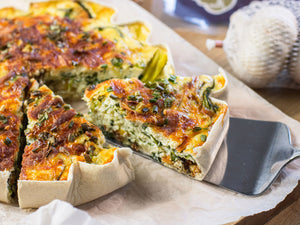 vegetarian
gluten-free
vegetarian
Low Calorie Caramelised Garlic Quiche
Share
Facebook
Twitter
WhatsApp
Email
A delicious low-calorie quiche? Garlic, pastry, cheese... all your favourites are present and correct, but with a Lo-Dough twist.
Nothing says YUM quite like this incredible, summery quiche, packed with a garlicky cheese filling and served in a light, low carb and low calorie pastry replacement shell - an Original Lo-Dough Base.   
Sweet caramelised garlic and a blend of parmesan and gouda are at the centre of this amazing tart, alongside some fantastic spring greens. 
Low-calorie quiche for meal prep
As ever a Lo-Dough quiche makes 4 small but satisfying portions alongside salad or 2 much larger portions if feeling super hungry.
Ingredients
Serves 4
One piece of Lo-Dough, rolled flat with a rolling pin
4 large eggs, beaten
150ml of half fat creme fraiche
10g of grated parmesan
25g of gouda (cheddar would be fine)
2-3 cloves of caramelised garlic
30g spinach, wilted
A bunch of chives, chopped
Salt & pepper
What you'll need
This diet-friendly recipe is possible with:

Original Lo-Dough Bases
Regular price
from £3.49
Out of stock
Method
Preheat the oven to 160C/325F/Gas 3.
Push the Lo-Dough into a 7-inch tin. Make sure to do this evenly, taking care to push it into the corners and create an upright edge.
Arrange the garlic, gouda and spinach in the base.
Whisk the 4 eggs and creme fraiche in a bowl with the finely chopped chives and season to taste with salt and pepper.
Bake in the oven for 30-35 minutes. Take out and allow to cool on a rack for at least 10 mins. Enjoy warm or cold!
Having caramelised garlic is a great culinary hack. Next time the oven is on simply throw a whole bulb in there for about 30 minutes and store in the fridge once cooled. Use in sauces, dressing, soups, pizzas and of course, quiches.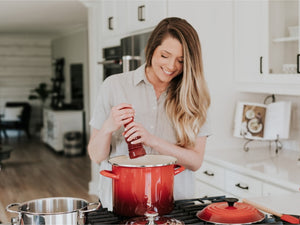 Hungry for more recipes?
Join over 200,000 subscribers in receiving new recipes, tips, offers and a whole lot more.