No, not a cauliflower base! Cauliflower Cheese on a low calorie pizza base. Trust us - this one is amazing.
We've taken a comfort food classic and turned it into a pizza topping. Using creamy cauliflower puree instead of the usual passata and then topping with cheese and pieces of char-grilled cauliflower, this is a serious piece of business. We've even used the often ignored and perfectly edible and delicious cauliflower leaves as finishing touch.
This is perfect for veggie, keto, reduced calorie and gluten free diets, our Lo-Dough cauliflower cheese pizza is a delicious AND healthy option for dinner. 
To make your cauliflower puree, break half a cauli-head up into florets and put in a sauce pan. Add enough milk to just cover the florets. Season and simmer until the florets are tender. Add the cooked cauli and milk into blender and whizz until silky smooth. Use as a pizza base, a pasta sauce, or loosen with chicken/veggie stock to make a delicious soup. 
Ingredients
Serves 1
1 piece of Lo-Dough
30g of cauliflower puree (see above)
70g of grated mozzarella
50g of chargrilled cauliflower florets
A few cauliflower leaves
What you'll need
This diet-friendly recipe is possible with:

Original Lo-Dough Bases
Regular price
from £3.49
Out of stock
Method
Preheat your oven to 250°C/475F/Gas 9.
Spread the puree across the Lo-Dough in a thin layer, right up to the edge.
Spread the grated cheese over the puree and add the griddle florets and the leaves. Put the pizza in the oven and cook for 7-10 minutes or until golden and bubbling.
Serve with crack of black pepper.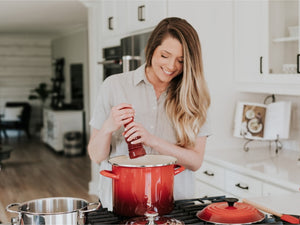 Hungry for more recipes?
Join over 200,000 subscribers in receiving new recipes, tips, offers and a whole lot more.