Low-Carb Indian-Style Snacks With A Spicy Kick
Popular across a number of regions of India, Samosas are a quick, delicious and often vegetarian snack food. Commonly deep-fried, the combination of fat and carb-heavy pastry can make them a no-go area for dieters. 
Now, made with Lo-Dough, samosas are back on the menu and as tasty as ever! Here, we've filled ours with one of the lower carb root vegetables available - celeriac, as well as some frozen peas. At 8.5 carbs per samosa and a mindblowing 67 calories each, we are starting to think Lo-Dough has some kind of magical powers. 
The recipe below gives the details for 1 individual samosa, but it's worth making two (seeing as you have cut the Lo-Dough in half!) You will need to pre-cook the spicy filling and then fill and fold your samosa wrapper (a piece of Lo-Dough cut in half). Finally, you'll need to bake them off for 20-30 minutes and that's it - beautiful low-calorie and low-carb samosas are all yours.
Why use
 

Lo-Dough?
Lo-dough is a virtually carb-free pizza base, bread and pastry alternative that can even be blitzed down in a food processor or nutri-bullet to make a flour replacement for sweet and savoury dishes. 
As a pastry replacement, the savings on carbs and calories are astronomical - giving both slimmers and keto-dieters a chance to indulge in pies, pasties, puddings, quiches and more.
Ingredients
Serves 2
1 piece of Lo-Dough
50g of celeriac, diced
50g of frozen peas, allowed to defrost (or microwaved briefly)
1 clove of garlic
1 teaspoon of cumin
1 teaspoon of garam masala
10g of fresh coriander
1 egg, beaten for egg washing
Salt & pepper to taste
10-15 sprays of oil
What you'll need
This diet-friendly recipe is possible with:

Original Lo-Dough Bases
Regular price
from £3.49
Out of stock
Method
Preheat your oven to 200C/392F/Gas 6.
Cook the celeriac until tender and then mash - you can bake, boil or steam as you prefer.
Add celeriac, peas, garlic and spices together and mix - this is the samosa filling.
Flatten the Lo-Dough with a rolling pin. Cut the Lo-Dough in half. Take the half piece and roll up, overlapping by around 2cm (1inch) to create a cone. Use a little beaten or egg to seal.
Insert the filling into the cone until nicely full, but leaving a little bit of Lo-Dough to seal. Again - seal using beaten egg.
Egg wash and bake for approx 20-30 mins, egg-washing again part way through for a golden finish. Serve as they are or with pickles/sauces of your choice.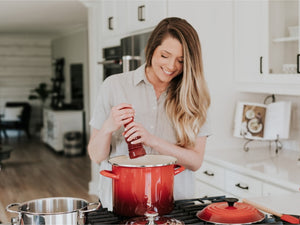 Hungry for more recipes?
Join over 200,000 subscribers in receiving new recipes, tips, offers and a whole lot more.