Classic, Simple, Unbeatable... This Is The Low-Carb Pizza You've Been Looking For
Whether following a low-carb diet for fitness or for slimming, or even just looking to lower the calories of your pizza without having to compromise on the quantity or type of the cheese you use. This is rich tomato sauce (Nowt Poncy is our sauce of choice!), full-fat grated mozzarella and a few fresh basil leaves, using a Lo-Dough base as your low-carb saviour. 
By cutting down the carbs so dramatically, you automatically slash the calories. But with Lo-Dough, you also boost the fibre by a massive 9.3g (this is approximately a third of your daily recommended fibre intake). Fibre is another great dietary hack - it satiates you, i.e. makes you feel fuller for longer and it also aids gut health and digestion. This is pizza with benefits!

Low-Carb Pizza - What Are The Macros For Your Margherita?
Well, It's 303 calories for a start. Just 303 kcal for a whoe pizza. Secondly, it's 5g of carbs. 2g carbs from the Lo-Dough base, 1g from the passata and 2g from the mozzarella. As for the other macros, it's 19g of fat, 24g of protein and a huge 10g of fibre. 
This really is pizza like no other and it tastes fantastic - how could it not with all that cheese and tomato goodness?!
If you want to keep pizza in your diet, whilst still reaching your fitness and dietary goals, then it really is a no-brainer:
Make it with Lo-Dough.  
Ingredients
Serves 1
1 piece of Lo-Dough
65g of grated mozzarella or pizza cheese
30g fresh mozzarella
30g of passata
A few fresh basil leaves
A crack of black pepper
A little spray oil
What you'll need
This diet-friendly recipe is possible with:

Original Lo-Dough Bases
Regular price
from £3.49
Out of stock
Method
Preheat your oven to 250°C/475F/Gas 9.
Spray the oil into the pan and fry off your Lo-Dough to add some colour to the base.
Put the browned Lo-Dough onto your cooking mesh/grill bars/pizza stone/air-fryer stand and spoon the pizza sauce over, making sure to spread it right to the edge.
Add the mozzarella on top, distributing as evenly as possible.
Bake in your oven for 7-10 minutes, or until golden and bubbling. Serve straight away with a crack of black pepper and a few basil leaves over the top.
💡 Top Tip
If you feel you like your base could be crispier when it comes out, try adding back to a hot, dry frying pan for 8-10 seconds and remove with a spatula.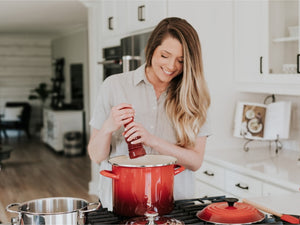 Hungry for more recipes?
Join over 200,000 subscribers in receiving new recipes, tips, offers and a whole lot more.