This low-carb calzone is flavour-packed to the hilt
This delicious, meaty calzone combo is just the trick for those of you looking for a low-carb, high-protein hit. Use cooked chicken and cured chorizo to make this dish a simple assembly job that's ready in 20-25 minutes.
Ingredients
Serves 1
1 Lo-Dough base
90g passata
40g of chorizo, in thin slices
40g of cooked chicken breast, in thin slices
40g of mozzarella
What you'll need
This diet-friendly recipe is possible with:

Original Lo-Dough Bases
Regular price
from £3.49
Out of stock
Method
Preheat your oven to 220°C/ 428°F/Gas 7.
Stir up 60g of the passata together with the chicken and chorizo and place in the centre of your Lo-Dough.
Wet the edge of your Lo-Dough with a little water and fold it over to form your calzone. Apply a fair amount of pressure to ensure it seals.
Top the calzone with the remaining sauce and mozzarella.
Bake in your oven for approx 10 minutes, or until golden. Serve with a little extra pizza sauce to dip in or pour over.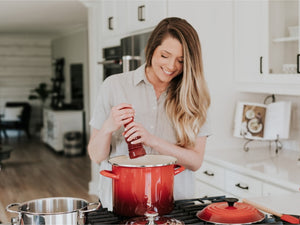 Hungry for more recipes?
Join over 200,000 subscribers in receiving new recipes, tips, offers and a whole lot more.