This amazing, layered low-carb sandwich will blow your minds!
Lo-Dough's take on a toasted club sandwich is something to behold. Using a relatively new innovation - the cut and fold 'TikTok' technique, you can achieve three distinct sandwich layers, even allowing you to toast and melt cheese in the hot layers, while keeping the salad crisp in fresh in the middle. What's more, you get to experience toasted and soft Lo-Dough in the one sandwich... giving you a much closer mouthfeel to a regular toasted sandwich. 

Give the Tik-Tok technique a try - we guarantee you'll love it.

For this recipe, we used The Foraging Fox's mayonnaise and Eatlean's 'Tasty' cheese slices. Check them out!
Ingredients
1 piece of Lo-Dough
80g of cooked, skinless chicken breast
2 rashers of lean bacon, grilled to your liking
1 tablespoon of mayonnaise (we used Foraging Fox)
2 slices of cheese (we used Eatlean Tasty)
A small handful of mixed salad
A few sprays of oil
What you'll need
This diet-friendly recipe is possible with:

Original Lo-Dough Bases
Regular price
from £3.49
Out of stock
Method
Cut a slice from the middle of the Lo-Dough base to the edge (see gif above).
Leave the first quarter empty, add the salad and mayo to one quarter, bacon and cheese to the next and finally chicken and cheese to the final quarter and fold over (see gif above).
Spray your sandwich press or pan with fry light and toast the sandwich until golden and with the cheese melting. Serve.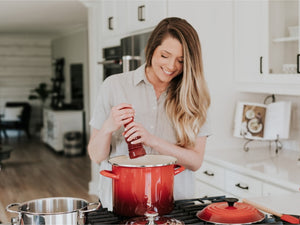 Hungry for more recipes?
Join over 200,000 subscribers in receiving new recipes, tips, offers and a whole lot more.