Low-carb chicken goujons the healthy way
The deliciousness of southern-fried chicken without the high calories. With Lo-Dough as your bread and batter replacement, these are healthier than they taste and look. So you can enjoy them freely!
Here's even better news: Doing chicken goujons the Lo-Dough way means they are just 2.2g carbs.
That's not to mention they're low-calorie, gluten-free and high in fibre and protein.
What we're basically saying is healthy chicken goujons - and all you need is one piece of Lo-Dough, one egg, two chicken thighs and a few store-cupboard ingredients.
Our thousands of Lo-Dough users swear by these nutritional, low calorie alternative meals. Whether you are slimming for focused on your fitness and nutrition, going Lo-Dough can be a real game changer.
Ingredients
1 piece of Lo-Dough, blitzed to a crumb
2 skinless, boneless chicken thighs, cut into goujons
1 small egg, beaten
1 teaspoon of paprika
1 teaspoon of chopped thyme
1 tablespoon of olive oil
Salt & pepper
What you'll need
This diet-friendly recipe is possible with:

Original Lo-Dough Bases
Regular price
from £3.49
Out of stock
Method
Preheat your oven to 200C/392F/Gas 6.
Get two large bowls. Put your beaten egg in one bowl and your crumbs in another.
Sprinkle your chicken goujons with the paprika, thyme and salt and pepper.
Coat the chicken in the egg thoroughly and allow any excess to drip off before placing in the bowl with the Lo-Dough crumbs. Shake well in the crumbs and ensure the chicken is well covered.
Add the oil to the pan and on a medium heat, fry the goujons on both sides until they are golden-brown.
Transfer to a tray and place in the oven for around 20 minutes.
Serve hot with any garnish or sauces of your choice.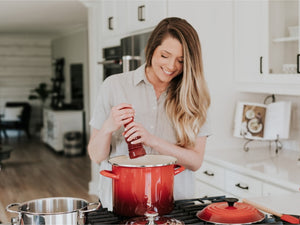 Hungry for more recipes?
Join over 200,000 subscribers in receiving new recipes, tips, offers and a whole lot more.