Low-Carb Savoury Puddings Are Possible!
This Turkey (or Chicken) & Mushroom Pudding is a serious bit of winter-warming wholesomeness. Packed to the rafters with its savoury filling, FULL of flavour and incredibly satisfying, this is a great meal for a cold night! If you have plenty of leftovers after a Sunday Dinner or even Christmas dinner, this is a great way to use some up! 
By using Lo-Dough instead of a traditional suet pastry crust, you'll massively drop the calories and the carbs (and the fat for that matter), whilst upping the fibre content of the dish. Fibre contributes massively to satiety (the feeling of fullness), so you'll still have a very satisfied tummy at the end of this one.  
Ingredients
Serves 4
2 pieces of Lo-Dough
400g cooked turkey or chicken, diced into big chunks
12 button mushrooms, halved or quartered
1 onion, finely sliced
1 clove of garlic, finely chopped
150g low fat cream cheese
Chicken stock cube - made up to 200ml stock
A few sprigs fresh fresh thyme
Salt & pepper
Spray oil for frying
1 egg, beaten (for a little egg wash)
What you'll need
This diet-friendly recipe is possible with:

Original Lo-Dough Bases
Regular price
from £3.49
Out of stock
Method
Preheat your oven to 180c/Gas 4. In a sauce pan, add the onions and garlic and cook until the onions have softened. Finally add the cooked meat, cream cheese, stock, herbs and seasoning and cook down until the sauce has thickened.
Get an oven proof bowl approx. 16 cm in diameter and line with a piece of Lo-Dough, allowing the folds to gather inside naturally.
Cut another piece of Lo-Dough to fit the top of the bowl.
Fill the bowl and first piece with the mix, pushing down and compacting as much as possible.
Seal the lid to the base and filling with a little beaten egg and then wrap tightly in tin foil.
Bake in the oven for approx 30-40 minutes. Turn out onto a platter, carefully cut out the quarters with a knife and serve with veg of your choice.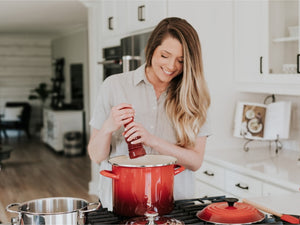 Hungry for more recipes?
Join over 200,000 subscribers in receiving new recipes, tips, offers and a whole lot more.