A Classic, Low-Carb Hot Dog Twist
The chilli dog is one of those undeniable pig-out meals. It's messy, it feels naughty and frankly, it's a bit of a ridiculous combination. But by god, it works! 
Spicy, rich chilli carne becomes the sauce for your dog. In this case, we've gone for a low-carb version - that means thick, butchers style sausages and either a shop-bought or home-made, low-sugar chilli con carne* served in a Lo-Dough finger bun. Absolutely delicious. 
You could just as easily make this a slimming meal - keep the Lo-Dough finger bun the same, but look for lower fat sausages (possibly even chicken sausages) and look out for readily available slimming chilli con carne ready meals (or make your own). Equally yummy! 
You got a BBQ on the go? It's only gonna improve your dog! 
High-Fibre Bread
This really speaks of the versatility of Lo-Dough. No matter what diet you have chosen, swapping out carb-heavy (and therefore calorie-heavy) bread for Lo-Dough will give you all the room in the world to make the fillings and toppings work for you. Not only that, but Lo-Dough will give you more fibre than any other option out there (9.3g of fibre for just 39 kcal and 2.2g of carbs).
*For a low-sugar chilli, follow a traditional recipe, but use far less tinned tomatoes (Ultra-traditional chilli con carne actually has no tomato in it. You'd be public enemy number one for putting tomatoes in your chilli in Mexico and even Texas!). Swap the tinned tomato for a dark stock and go a little easier on the onion too. Flavour with dark, bitter chocolate or a little ground coffee - trust us! Make your chilli ahead - it actually improves if left to cool and then reheated - this is a great way to use leftovers. 
Check out some other hot dog variants (From L-R): Fried onions/mustard/ketchup, cream cheese/horseradish/raw onion/chilli/gherkin, chilli con carne/cheese, sweetcorn/bean salsa. 
Ingredients
Serves 1
1 piece of Lo-Dough
2 good quality butcher's sausages
50g of chilli con carne
10g of onion
3-4 sprays of oil
What you'll need
This diet-friendly recipe is possible with:

Original Lo-Dough Bases
Regular price
from £3.49
Out of stock
Method
Heat your oven up to 200C/400F/Gas 6.
Add you sausage into the oven on a tray and cook for approx. 20-25 mins.
While the sausage is cooking, warm up your chilli in a saucepan (or even the microwave).
When the sausages and the chilli are cooked, you're ready to get it into the bun. Fold the Lo-Dough in towards the centre, about one inch either side to create your Lo-Dough bun (see image).
Place the sausage on in the middle of your folded Lo-Dough, followed by the onions and then place into a fry-light sprayed sandwich press, or press down in a pre-sprayed hot griddle pan for approx two minutes (turning in the griddle pan after 1 minute). Alternatively, you can just wrap up your sausages in the wrap straight from the packet.
Finish with finely chopped onions and serve.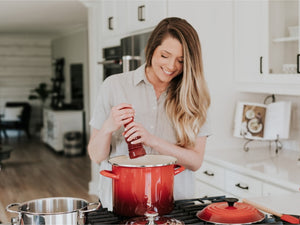 Hungry for more recipes?
Join over 200,000 subscribers in receiving new recipes, tips, offers and a whole lot more.