The Low-Carb, High-Protein Pizza With A Mexican Flavour Twist
The twist here is magical chipotle paste. If you haven't come across it before, you're gonna thank us for this. Chipotle is a pepper that has been dried in smoke. They are used in a number of Mexican and Mexican-inspired dishes and their unique smokiness is desirable and very moreish. For home cooking, the best way to get hold of this flavour is via a paste, readily available in most supermarkets. 
Here we have used it as part of the base sauce for a low-carb pizza and to dress up some chicken to go on top. The result is as described above, smokey, spicy and addictive. At just under 40g of protein and 9.3g of fibre for just 8 carbs, this is a perfect post-workout pizza, but for anyone just looking for a low-calorie pizza, it's only 382 calories for the lot!
Lo-Dough - The Low-Carb Pizza Base
Whether trying this Mexican inspired pizza or making something a little more traditional, if you are looking to lower the carbs and calories, then a Lo-Dough base is the way to go. Just 39 calories and 2.2g of carbs, when used as a pizza base, you have the freedom to load up on tasty toppings - no need to skimp on the cheese here! 
If you like your food with a good dose of heat and flavour, then this could be the pizza for you!
Ingredients
Serves 1
1 piece of Lo-Dough
70g of grated mozzarella
75g of chicken breast, sliced
25g of courgette, sliced
1 tablespoon of passata
2 tablespoons of chipotle paste
A little spray oil
What you'll need
This diet-friendly recipe is possible with:

Original Lo-Dough Bases
Regular price
from £3.49
Out of stock
Method
Preheat your oven to 250°C/475F/Gas 9.
Spray the oil into the pan and fry off your Lo-Dough to add some colour to the base.
Put the browned Lo-Dough onto your cooking mesh/grill bars/pizza stone/air-fryer stand. Mix 1 tablespoon of the chipotle paste with the passata and spread onto your Lo-Dough, making sure to spread it right to the edge.
Add the mozzarella on top, distributing as evenly as possible. Mix the chicken and courgette with the remaining chipotle paste and then distribute over the top of the pizza.
Bake in your oven for 7-10 minutes, or until golden and bubbling. Serve straight away.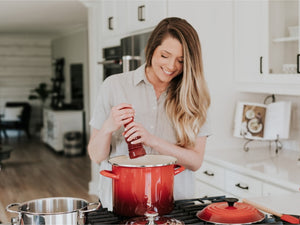 Hungry for more recipes?
Join over 200,000 subscribers in receiving new recipes, tips, offers and a whole lot more.