This tropical tasting mug cake would make a zingy breakfast or a delicious dessert
There's nothing like the zing of fresh lime to perk up a sweet cake. Coupled with grated fresh coconut, this sweet breakfast/dessert brings a truly tropical taste to the table. You could easily add fruit to this - think mango, pineapple or passion fruit - approx. 100g of either would work. 
But we've gone with a plain a low-calorie, low-carb simple sponge and it's delicious just as it is!
Ingredients
Serves 1
1 piece of Lo-Dough, blitzed to fine crumbs
1 large egg, beaten
2 teaspoons of fat free yoghurt
The juice and zest of half a lime
30g of grated fresh coconut
2 dessert spoons of erythritol sweetener
Half a teaspoon of vanilla paste
What you'll need
This diet-friendly recipe is possible with:

Original Lo-Dough Bases
Regular price
from £3.49
Out of stock
Method
Add the Lo-Dough, egg, lime zest and juice, coconut, vanillia, yoghurt and sweetener to a bowl and mix well .
Line a mug with a small piece of grease proof paper.
Cook in a microwave for 2-3 minutes (depending on wattage). After 2 minutes take out and check by pressing the bottom of the mug cake. It should feel firm to touch, with a little bounce.
Take out and leave to stand in the mug for a further minute before turning out onto a plate. Serve with yoghurt and an extra grating of lime zest.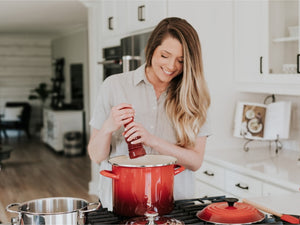 Hungry for more recipes?
Join over 200,000 subscribers in receiving new recipes, tips, offers and a whole lot more.