Coffee break? Here are the perfect low carb snacks!
If you are looking for a simple twist on your low-carb Lo-Dough brownies, look no further. There coffee and walnut brownies are simply perfect with a mid morning or afternoon coffee! Easy to make, this recipe serves 9. We even tried pairing them up with low-sugar ice cream for a nutty take on that Italian classic 'Affogato'! 

Delicious. 
Ingredients
Serves 9
1 pack of Lo-Dough Brownie Mix
1 cup of sweetened black coffee
9 walnut halves, plus a couple of crushed halves
What you'll need
This diet-friendly recipe is possible with:
Lo-Dough Brownie Mix
Regular price
£5.59
Out of stock
Method
Make the Lo-Dough Brownie Mix as per the packet instructions, adding in coffee (250ml) instead of the water. Mix in the crushed walnuts.
Add the mix to your lined tin, add nine walnut halves for decoration and bake for 25 minutes at 190C.
Allow to cool (as per the instructions) and then cut into 9 portions. Serve with low-cal ice cream if desired.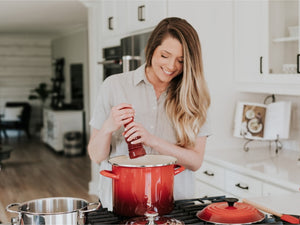 Hungry for more recipes?
Join over 200,000 subscribers in receiving new recipes, tips, offers and a whole lot more.