The flavours of a Cuban Sandwich in pizza form. Low-calorie food doesn't get much tastier
Two cuts of pork, fiery mustard mayonnaise, pickles and Swiss cheese. It's an incredible combination and it makes total sense as a pizza. If you are looking to enjoy a low-carb pizza, the other thing that makes sense is to make it with Lo-Dough!
Ingredients
Serves 1
1 piece of Lo-Dough
30 of grated mozzarella
1 slice of Swiss cheese, cut into squares
30g of passata
30g of sliced roast pork
30g of cooked sliced ham
25g of gherkins, sliced
10ml of yellow mustard
What you'll need
This diet-friendly recipe is possible with:

Original Lo-Dough Bases
Regular price
from £3.49
Out of stock
Method
Preheat your oven to 220°C/ 428°F/Gas 7.
Spread the passata over your Lo-Dough, smooth side up, taking it right to the edge.
Top with the cheese, pork, ham and gherkins.
Bake in your oven for 7-10 minutes, or until golden and bubbling and serve with a a squirt of the mustard on top.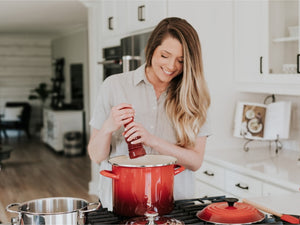 Hungry for more recipes?
Join over 200,000 subscribers in receiving new recipes, tips, offers and a whole lot more.