Low-Calorie Marmite & Cheese Soldiers with a Dippy-Egg. Breakfast is Served!
Is there anything more comforting than dipping into a runny egg first thing in the morning? We don't think so and now thanks to Lo-Dough, you can still enjoy this breakfast treat & stay on plan. Low-carb, low-fat, low-calorie, maximum flavour. 
The key to making the macros SO mind-blowing is switching out regular toast for Lo-Dough and regular cheddar for Eatlean protein cheese. The Lo-Dough lowers the carbs and ups the fibre, the Eatlean lowers the fat and ups the protein. It's a win-win combination! As for the Marmite - for our money, its the easiest way to provide that umami-rich, savoury edge that so many of us crave! 
This recipe is so quick. In fact, it will take you about the time it takes for the kettle to boil... And if you're like us, that's what you'll be doing - did you know you can cook perfect boiled eggs in a standard kettle?! Put the eggs in with cold water and bring it to the boil. Once the water is boiling and the button clicks off, leave the eggs in the water for a further 3 minutes and take out with a slotted spoon - you'll have perfect soft boiled eggs! Otherwise, y'know... do them the traditional way! 
Low-Carb Egg & Soldiers
Whichever way you make your eggs, give these low-carb and low-fat soldiers a try - you won't be disappointed.
Did you know? The introduction of Marmite into the world was a complete and utter accident. It was created in the 19th century when a German chemist, Justus Liebig, one day realised that brewer's yeast - an essential ingredient in the production of beer - could be concentrated, bottled and then eaten.
Ingredients
Serves 1
1 piece of Lo-Dough
1 egg
2 teaspoons of Marmite
60g of Eatlean Protein cheese
What you'll need
This diet-friendly recipe is possible with:

Original Lo-Dough Bases
Regular price
from £3.49
Out of stock
Method
Preheat your oven to 250°C/475F/Gas 9.
Get your boiled egg on - use our method above, or make in a saucepan as you would traditionally.
Spread the Marmite across the Lo-Dough in a thin layer, right up to the edges.
Spread the grated cheese on top of the marmite and put the pizza in the oven for 6-7 minutes or until golden and bubbling.
Cut your Marmite pizza into thin lengths that will fit in your egg, crack the egg and get dunking!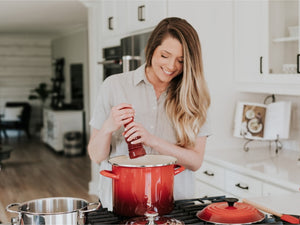 Hungry for more recipes?
Join over 200,000 subscribers in receiving new recipes, tips, offers and a whole lot more.