Also known as 'French Toast', eggy bread has been a breakfast staple for centuries down to its simplistic and comforting nature. A versatile dish that goes down well with the whole family, Eggy Bread can now be enjoyed by those on a gluten-free, low carb and low-calorie meal plan when cooked with Lo-Dough.
We like to serve ours with smashed avocado and grilled Rosata Tomatoes, but it also goes well with bacon and maple syrup (if your meal plan allows it) or parmesan cheese and colourful chunky salads.
Note: If you're following a slimming group weight loss plan, you can swap the butter for Frylight, which will take your calorie count down from 167 to 84 and your fat intake from 12g to 6g. If you're following a keto plan the butter will fit in deliciously! 
Ingredients
Serves 2
2 pieces of Lo-Dough
2 large free-range eggs
2 tbsp milk
Sea salt and cracked black pepper
1 tbsp of unsalted butter
What you'll need
This diet-friendly recipe is possible with:

Original Lo-Dough Bases
Regular price
from £3.49
Out of stock
Method
Crack the eggs into a mixing bowl.
Add the milk and season with salt and pepper.
Whisk the egg mixture together then add your Lo-Dough to the mixture to fully soak (For best results we recommend soaking for an absolute minimum of 20 minutes).
Once fully soaked, place your frying pan on a medium heat and allow it to heat up.
Add your olive oil or butter to the pan and swirl around until fully covered.
Lift your Lo-Dough out of the mixing bowl, allowing any excess egg mixture to drip off. Carefully lower into the frying pan and cook for approx 2-3 minutes on each side until golden.
Remove from the heat and serve immediately.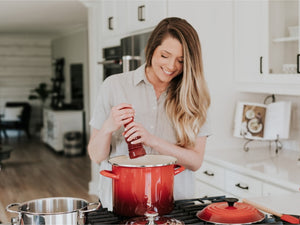 Hungry for more recipes?
Join over 200,000 subscribers in receiving new recipes, tips, offers and a whole lot more.