Embellish Your Brownies With A Fruity & Festive Decoration!
If you want your Low-Carb and Low-Cal brownies to look just the part this Christmas, there are a few simple ways to up the game visually! 
First of all - bake in a circular tin if you have one - you can serve the portions as elegant wedges.
Next, get some lovely fresh fruits: Strawberries, raspberries, blackberries, cherries, pomegranate seeds all work perfectly, but any fruit that you enjoy with chocolate would be just as good. If you like them, scatter some unsalted nuts (again - your choice) over the top and finally, just give it a little dusting with some icing sugar (or for the lowest of low-carb options, some powdered erythritol sweetener). 
As you can see from the images, this elevates the brownie up to something a little more seasonal and special!
Obviously, the calories and carbs will vary depending on the fruits and nut you use, so we have given you the nutritional info for the brownie when cut into 8 generous wedges, without the additions. 
Ingredients
Serves 8
1 pack of Lo-Dough Brownie Mix
To decorate
Mixed Fresh fruit
Nuts (unsalted)
One teaspoon of icing sugar/powdered sweetener
What you'll need
This diet-friendly recipe is possible with:
Lo-Dough Brownie Mix
Regular price
£5.59
Out of stock
Method
Make the Lo-Dough Brownie Mix as per the packet instructions, but place into an 8-inch circular tray if desired.
Allow to cool (as per the instructions).
Decorate with any fruit, nuts, adornments you desire. Sprinkle with a little icing sugar/powdered sweetener.
Serve as 8 wedges.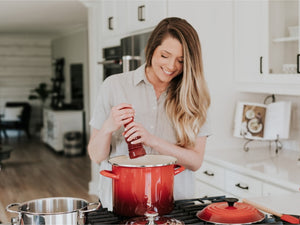 Hungry for more recipes?
Join over 200,000 subscribers in receiving new recipes, tips, offers and a whole lot more.