Enjoy The Fireworks In More Ways Than One With Our 'Firework Pizza'!
If you like your pizza nice and spicy, we've got the perfect low-cal/low-carb pizza to keep you warm this bonfire night! It features 3 different types of chillies, spicy sausage and a splash of hot sauce - however, this pizza actually tastes surprisingly balanced. By not picking the 3 hottest chillies you can find - maybe something around medium in strength, you'll find the chillies introduce a lovely flavour as well as that much-loved tingle on the tongue!  
As ever with Lo-Dough we are dramatically cutting your calories and carbs whilst upping your fibre intake to around a third of your daily recommended intake. 
Enjoy the fireworks! 
Ingredients
Serves 1
1 piece of Lo-Dough
70g of grated mozzarella
2 tablespoons of passata
Half a red chilli, cut into fine rings
Half a green chilli, cut into fine rings
3 jalapeno rings, finely diced
20g of finely diced yellow pepper
30g of spicy chorizo, finely diced
What you'll need
This diet-friendly recipe is possible with:

Original Lo-Dough Bases
Regular price
from £3.49
Out of stock
Method
Preheat your oven to 220°C/Gas 7.
Spread the passata on the smooth side of your Lo-Dough, spreading right to the edge. Then add your cheese, again, right to the edge.
Sprinkle over all the chillies, the peppers, the chorizo sausage and a little hot sauce (optional).
Bake in your oven for 7-10 minutes, or until golden and bubbling. Serve straight away.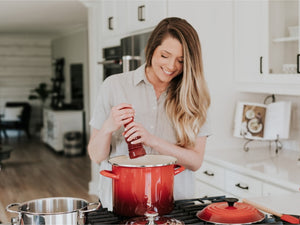 Hungry for more recipes?
Join over 200,000 subscribers in receiving new recipes, tips, offers and a whole lot more.