Low-carb pizza... And gravy to dip it in? Oh yes! Read on...
Inspired by the great American sandwich, this French dip pizza really hits the spot. Roast beef and Swiss cheese on a bianca (white) sauced pizza, with a pot of rich beef jus to dip in as you go. Thanks to Lo-Dough, this is a low-carb, low-calorie, high-protein and high-fibre pizza all in one - and you aren't sacrificing one iota of flavour. 
This one is perfect for leftover beef and gravy after a Sunday dinner! 
Ingredients
Serves 1
1 piece of Lo-Dough
60g of grated Emmental cheese
50g of thinly sliced roast beef, cut into pieces
30ml leftover or bought in gravy
30g of cream cheese
1 clove of garlic, crushed
What you'll need
This diet-friendly recipe is possible with:

Original Lo-Dough Bases
Regular price
from £3.49
Out of stock
Method
Preheat your oven to 220°C/ 428°F/Gas 7.
Mix the cream cheese and garlic in a bowl. Spread over your Lo-Dough, smooth side up, taking it right to the edge.
Top with the swiss cheese and the beef.
Bake in your oven for 7-10 minutes, or until golden and bubbling. Serve with a pot of hot gravy to dip every slice into.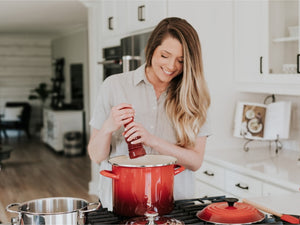 Hungry for more recipes?
Join over 200,000 subscribers in receiving new recipes, tips, offers and a whole lot more.