This keto lasagne recipe gives a low carb twist to a simple, comforting and delicious meal
We've come up with a super speedy and keto-friendly lasagne dish for the ages. Made simple with low carb chicken sausages, mushrooms, garlic, spinach and ricotta, this will help you hit your keto goals while enjoying delicious comfort food. If you are looking for more fat in your diet, you can swap the sausages for pork and the ricotta for mascapone.
What's more, this is the speediest lasagne you'll ever make from scratch!
Lo-Dough: The keto pasta replacement 
Using Lo-Dough bases to replace the usual sheets of pasta, you wont believe how filling, indulgent and as close to the original pasta based version you can get. By going easy on the more sugary tomato sauce, and heavier on the creamy sauce, you can balance those macros and still enjoy an amazing lasagne experience. 
Just like regular lasagne, this recipe freezes brilliantly and is arguably even better reheated, so while this recipe is for one, we suggest scaling up the recipe and making extra!
Ingredients
Serves 1
1 piece of Lo-Dough
Approx. 200g of
30g of cheddar
For the filling:
2 low carb chicken sausages, cut into small chunks
40g of ricotta
1 clove of garlic
50g mushrooms
15g spinach
30g passata
What you'll need
This diet-friendly recipe is possible with:

Original Lo-Dough Bases
Regular price
from £3.49
Out of stock
Method
Preheat the oven to 180C/Gas 4.
Make the ragu - fry off your sausages until brown and then add the garlic and mushrooms. Add the ricotta and a splash of water with a little seasoning and allow to simmer, briefly. Add you spinach and wilt for the final minute.
Cut your piece of Lo-Dough into quarters.
On a baking tray, layer up the quarters with sausage ragu (3 layers of ragu between the four pieces) in between each quarter, with a small spoon of passsta on top of each one.
Add your cheddar on top.
Bake in the oven for 25-30 minutes, or until golden brown. Garnish with a few parsley/basil leaves if desired.
Left over lasagne is never unwelcome. You can easily scale up this recipe to create a family sized portion.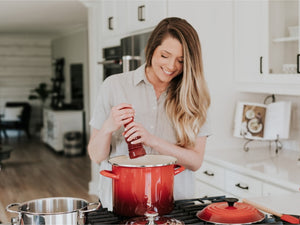 Hungry for more recipes?
Join over 200,000 subscribers in receiving new recipes, tips, offers and a whole lot more.