gluten-free
vegetarian
Low-Carb Goats Cheese & Apricot Jam Toastie
Share
Facebook
Twitter
WhatsApp
Email
A Low-Carb Toastie With A Sweet/Savoury Filling
If you've ever dipped your brie in cranberry sauce at Christmas (and if you haven't, why not?!) then this recipe should be right up your street! Here, the sharp tang of the goat's cheese marries perfectly with the apricot jam and the whole thing is accented with the addition of fresh thyme and parsley. The fact that it's ready to eat in under 5 minutes is just another added bonus! 
The macros of a toastie made using Lo-Dough are what really makes it stand out. A cheese toastie - packed with a massive 100g of cheese would normally be off the charts for anyone following a diet, but this Lo-Dough version comes in at just over 350 calories and 9g of carbohydrate. Lo-Dough gives you the leeway to indulge in tasty treats! As does a bit of judicious shopping - seek out reduced-sugar jam to help keep those sugars and carbohydrates down. 
Ingredients
Serves 1
1 piece of Lo-Dough
100g of goats cheese (soft works best here)
A tablespoon of reduced sugar apricot jam
A sprinkle of chopped thyme
A sprinkly of chopped fresh parsley
A couple of sprays of oil
What you'll need
This diet-friendly recipe is possible with:

Original Lo-Dough Bases
Regular price
from £3.49
Out of stock
Method
Cut your Lo-Dough in half to create your base and lid.
Add your jam to the base, followed by the cheese and herbs. Put the lid on. SSpray your sandwich press with a little oil, place your toastie on and turn up the heat.
Cook for approx. 5 minutes and serve hot! We recommend cutting the finished toastie in half again and stacking up like a club sandwich (see photo).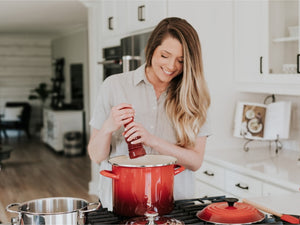 Hungry for more recipes?
Join over 200,000 subscribers in receiving new recipes, tips, offers and a whole lot more.