This Pizza Is Made For The Keto Diet!
Halloumi might not be all that closely associated with pizza, but for something that's a little bit different, it certainly ticked all the boxes for us!
The cheese is a little richer and saltier than mozzarella, so needs slicing very thinly so as not to become overbearing. To keep with the greek theme of the cheese, we've added some olives too. For the purposes of balancing these strong flavours, we added sweet tomato halves, capers and a few leaves of basil. 
What a total winner of a pizza!  
Ingredients
Serves 1
1 piece of Lo-Dough
75g of halloumi, thinly sliced
2 tablespoons of passata
A tablespoon of olives, chopped/ripped up
A teaspoon of capers, very roughly chopped
4-5 cherry tomatoes, halved
What you'll need
This diet-friendly recipe is possible with:

Original Lo-Dough Bases
Regular price
from £3.49
Out of stock
Method
Preheat your oven to 220°C/Gas 7.
Spread the passata on the smooth side of your Lo-Dough, spreading right to the edge. Then add your mozzarella and halloumi, again, covering right to the edge.
Top with the olives, tomatoes and capers.
Bake in your oven for 7-10 minutes, or until golden and bubbling. Dress with fresh basil leaves. Serve straight away.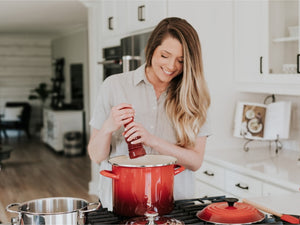 Hungry for more recipes?
Join over 200,000 subscribers in receiving new recipes, tips, offers and a whole lot more.