A Delicious Low-Calorie Quiche With A Chinese-Twist
This is a bit of a fusion dish really, but one that makes perfectly good sense. Cooked egg/omelettes are commonly found in many Chinese dishes and so we thought we try combining the delights of one of the worlds favourite Chinese starter dishes - hoisin duck - and a simple quiche. It worked perfectly and when served alongside a fresh pickled cucumber and spring onion salad, the whole dish started to make perfect sense! We even dressed our salad in a light hoisin sauce dressing. 
Using Lo-Dough as a quiche base means you cut the fat carbs and calories normally found in the pastry component of a regular quiche. Even with the hoisin sauce, this comes in at just 6.75g of carbs per portion! Lo-Dough is just 39 calories, 2.2g carbs and a massive 9.3g of fibre per piece - fibre being an incredibly important factor in any diet. It's not just about what you save when you use Lo-Dough - it's also about what you gain! 
A Low-Carb Asian Food Twist
A Lo-Dough quiche makes four filling portions - especially when served alongside a nice, wholesome salad, like the one we have suggested. That means you're one piece of Lo-Dough is going one heck of a lot further! As well as that - it takes hoisin duck off the starter menu and turns it into something more substantial meal component, without altering the carbs and not massively changing the calories either.
You can use duck breast or leg for this one - the choice is yours, but in either case, you will need to remove the skin after cooking as it will go soft inside the quiche as it cooks.
Top tip: For the salad, slice long thin ribbons of cucumber with a peeler or mandolin. Make a pickle mix of half white wine vinegar, half water, a good spoon of sweetener and a good pinch of salt. Soak the slices of cucumber for a minimum of 30 minutes. Then slice the spring onions into fine strips and soak in ice cold water in the fridge for approx 30 mins too - this will make them curl up in an attractive fashion.  Drain both and mix with leaves for a lovely salad. For the dressing, mix a little hoisin with a little good quality oil, vinegar and seasoning and lightly dress the leaves.  
Ingredients
Serves 4
1 piece of Lo-Dough
4 eggs, beaten
150ml of creme fraiche
125g of cooked duck breast/leg meat, chopped
20g of spring onions, sliced
A small handful of coriander, finely chopped
Hoisin sauce do drizzle over afterwards (2 tablespoons per serving)
Salt & pepper
What you'll need
This diet-friendly recipe is possible with:

Original Lo-Dough Bases
Regular price
from £3.49
Out of stock
Method
Preheat the oven to 160C/325F/Gas 3.
Roll out your Lo-dough flat and it into a 7 inch tin. Make sure to do this evenly, taking care to push it into the corners and create an upright edge.
Mix the eggs and creme fraiche in a bowl with a whisk. Add the chopped coriander and season with salt and pepper.
Arrange the duck and sliced spring onions in your quiche pour over the egg mixture.
Bake in the oven for 30-35 minutes, or until just firm to the touch. Take out and allow to cool on a rack for at least 10 mins. Enjoy warm or cold with the hoisin sauce drizzled over, plus our recommended salad on the side!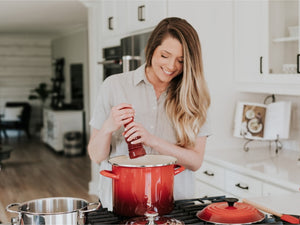 Hungry for more recipes?
Join over 200,000 subscribers in receiving new recipes, tips, offers and a whole lot more.