Use Our Southern Style Coating To Make Delicious Meatballs
Then get them on a pizza - you won't regret it. A meatball pizza is very much a New York-style variant and obviously one for the carnivores. 
Italian style meatballs have long had milk-soaked breadcrumbs added to them to create a lighter texture and these are no exception to this rule. Adding a good handful of our Southern Style Coating in a splash of milk does exactly the same job, as well as seasoning and flavouring the meatballs.
Of course, you can serve your meatballs anyway you like (and once made, they freeze brilliantly), but to keep the meal ultra low carb, we recommend putting them on a Lo-Dough pizza. 
For perfect low-calorie meatballs, make them with Lo-Dough!  
Note - The cooking time includes the time it takes to cook the meatballs themselves as well as the pizza cooking time. If you make ahead and freeze, the cooking time will be dramatically reduced.
We recommend a handful of (soaked) breadcrumbs for every 100g of mince. 
Ingredients
Serves 1
For the meatballs
100g of minced beef
15-20g of Lo-Dough Southern Style Crumb
A splash of Milk
For the pizza
1 piece of Lo-Dough, lightly fried on both sides in spray oil
70g of grated mozzarella
2 tablespoons of passata
Around 10-12 meatballs
10g of mixed peppers, diced
10g of red onion, finely chopped
2 cherry tomatoes, quartered
A twist of black pepper
What you'll need
This diet-friendly recipe is possible with:

Original Lo-Dough Bases
Regular price
from £3.49
Out of stock
Method
Preheat your oven to 220°C/Gas 7.
Add your Southern Style Coating crumbs to a bowl and add the splash of milk. Mix until it forms a porridge-like consistency.
Add your beef and mix thoroughly (it's easiest with your hands). Form into small balls and then bake in the oven for around 20 minutes until browned and cooked through. Set aside.
Spread the passata on the smooth side of your Lo-Dough, spreading right to the edge. Then add your cheese, again, right to the edge.
Add the meatballs, the pepper and the onion, spreading evenly.
Bake in your oven for 7-10 minutes, or until golden and bubbling. Serve straight away.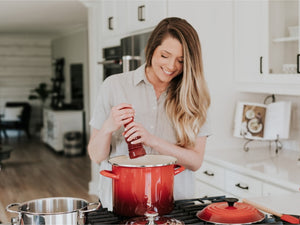 Hungry for more recipes?
Join over 200,000 subscribers in receiving new recipes, tips, offers and a whole lot more.