Huevos Rancheros is a well-loved breakfast in Mexico, consisting of eggs, spicy salsa, avocado, coriander and in this case, a piece of Lo-Dough in place of a tortilla. The Lo-Dough soaks up the egg yolk and zingy, piquant salsa just the same, but with the added bonus of being nice and low in calories. 
The calories and nutritional info stated is for half the pictured dish, which we found was more than enough for two. If you fancied a big brunch, the whole dish would clock in at a very respectable 350 calories if you removed the avocado. Mix and match - have a cheat-day or make the dish work for your slimming needs.
Ingredients
Serves 2
1 piece of Lo-Dough
2 eggs
100g of cherry tomatoes, chopped
½ an avocado (optional), cut into chunks
⅓ tin of re-fried beans
1 small onion, finely chopped
1 clove of garlic
2 limes
A handful of fresh coriander
6 sprays of fry-light oil
Salt & pepper
What you'll need
This diet-friendly recipe is possible with:

Original Lo-Dough Bases
Regular price
from £3.49
Out of stock
Method
Have two frying pans and one saucepan ready to go. Put the re-fried beans in the saucepan and heat up gently on a very low heat.
Add the tomatoes, onion, garlic, juice of one lime and the fresh coriander into a bowl and mix to make your salsa. Season to taste.
Add the chunks of avocado and juice of the other lime into another bowl. The lime will flavour the avocado as well as stopping it from going brown. Add a little salt.
Add 3 sprays of fry light to each frying pan and turn up the heat on both. Fry the eggs in one, adding a teaspoon of water and a lid part way through to help steam the top of the egg. Brown off your Lo-Dough in the other pan.
To assemble the dish, spread the re-fried beans over the Lo-Dough, top with eggs and spoon over the salsa and avocado chunks. Enjoy with a friend or loved one!
We also added a simple red onion pickle to ours (red onions left in a little watered-down white wine vinegar overnight).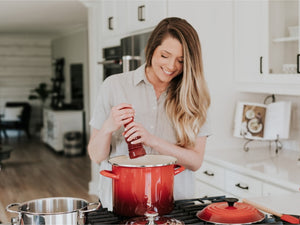 Hungry for more recipes?
Join over 200,000 subscribers in receiving new recipes, tips, offers and a whole lot more.