Welcome To Veggie Breakfast Heaven
For a classic breakfast/brunch dish, you could do a lot worse than creamy mushrooms on toast. Garlicky, herby, creamy and strong with the flavour of assorted wild and common mushrooms, this one is a taste sensation. With Lo-Dough we bring it up another notch by serving the mushrooms on beautiful, savoury french toast, flecked with finely grated parmesan.
What does all this luxurious flavour set you back? Just 354 calories and 9g of carbs.
How much fibre? A MASSIVE 18g!! That's over half your daily recommended fibre intake in one breakfast sitting. 
For something this utterly delicious, the macros are absolutely astonishing. You have to try this. 
Ingredients
Serves 1
For the french toast
1 piece of Lo-Dough, cut into quarters
1 large eggs
20ml of milk
10g of butter/a few sprays of oil
For the mushrooms
200g of mixed mushrooms
1 tablespoon of olive oil
15ml of creme fraiche
Half a clove of garlic
A teaspoon of chopped thyme
A pinch of chilli flakes
Salt & pepper
5-10g of parmesan (optional)
What you'll need
This diet-friendly recipe is possible with:

Original Lo-Dough Bases
Regular price
from £3.49
Out of stock
Method
Add one egg, milk and parmesan to a bowl and mix well with a fork. Season with a little salt and pepper (go easy on the salt). When combined, add your Lo-Dough. Leave this mix in the fridge for a minimum of 30 minutes, for the.
Lo-Dough to absorb the liquid.
In one frying pan start frying your mushrooms in the olive oil. Near the end of cooking, add your garlic and thyme and fry for a further minute. Add the creme fraiche and chilli flakes and season to taste.
Meanwhile, on a low heat, add the butter to another frying pan with a small splash of oil and gently fry the eggy Lo-Dough until golden brown. The Lo-Dough will be a little fragile after soaking, so treat it carefully.
Once everything is cooked, stack up on a plate and serve. Finish with a final grating of parmesan if desired.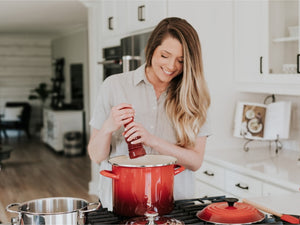 Hungry for more recipes?
Join over 200,000 subscribers in receiving new recipes, tips, offers and a whole lot more.