Food Doesn't Come More Comforting Than Stew & Dumplings
If there is food like this on the table, who cares what the weather is like outside? Often stodgy, heavy and super high in calories, our dumplings are light, yet filling and incredibly low in calories and carbs! Trust us - two dumplings with your stew will be plenty!
They take mere moments to throw together and just need cooking for the last 20-30 minutes of stewing time - give them a go. Knowing we were serving this with a lamb stew, we decided to make them with rosemary and mint - two of lambs best friends!
Remember, being suet-free these dumplings would also be great for vegetarian stews and broths as well. 
Recipe makes four dumplings (two per portion). 
Ingredients
Serves 2
2 piece of Lo-Dough, whizzed to fine crumbs in a processor
1 large egg yolk
1 teaspoon of mustard
40g of grated mature cheddar
A tablespoon of rosemary, finely chopped
A tablespoon of mint, finely chopped
80-100ml of water
Salt & pepper to taste
What you'll need
This diet-friendly recipe is possible with:

Original Lo-Dough Bases
Regular price
from £3.49
Out of stock
Method
In a mixing bowl, combine the Lo Dough crumbs, the cheese, the mustard, the herbs, the egg yolk and the water. Mix well - remember - the mix should not be too dry, or your dumplings will be heavy. Roll into 4 individual balls.
Take your hot stew from the oven 20 minutes before the end of cooking and add the dumplings on top - half in and half out of the stew.
Cover loosely with foil and cook in a preheated, moderate oven (approx. 180C/356F/Gas 4) for 20-30 minutes.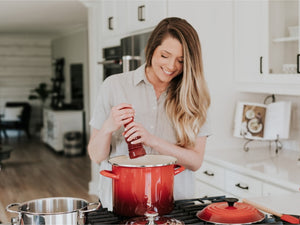 Hungry for more recipes?
Join over 200,000 subscribers in receiving new recipes, tips, offers and a whole lot more.