Enjoy a taste of Spain on this fantastic low-carb pizza
When you can't decide between meat and veg, a great combination of the two can work perfectly. With chorizo being such a flavour packed sausage, a little goes a long way - a few fine slices is all you'll need to take your pizza to another level of flavour. We've combined ours with peppers, courgettes, diced onions and sliced jalapenos to great effect here, adding plenty of incredible taste and texture for surprisingly few calories and just a couple of grams of carbohydrate. 
Give it a go! 
Ingredients
Serves 1
1 piece of Lo-Dough
30g of pepperoni
15g of jalapeno chilli peppers, sliced
10g of pepper, sliced
10g of courgette, sliced
70g of grated mozzarella
2 tablespoons of passata
A twist of black pepper
What you'll need
This diet-friendly recipe is possible with:

Original Lo-Dough Bases
Regular price
from £3.49
Out of stock
Method
Preheat your oven to 220°C/428 F.
Spread the passata across the Lo-Dough in a thin layer, right up to the edge.
Spread the grated cheese on top of the passata and add the pepperoni and jalapenos. Bake in the oven for 7-10 minutes, or until golden and bubbling.
Serve with a crack of black pepper on top.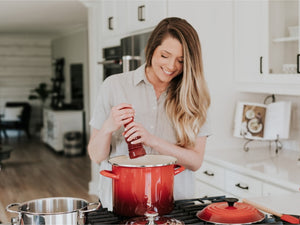 Hungry for more recipes?
Join over 200,000 subscribers in receiving new recipes, tips, offers and a whole lot more.