This simple pizza is a quick low-carb fix, bursting with flavour
Using just six ingredients, you can create the most incredible, full-flavoured pizza - ready in under 15-20 minutes. 
Lo-Dough pizzas are low in carbs and calories, but high in fibre and in this case, high in protein too. What's more, by switching to Lo-Dough, you need not miss out on all the delicious toppings that make pizza such a pleasure to eat. 
Ingredients
1 piece of Lo-Dough
2 tablespoons of passata/pizza sauce
70g grated mozzarella
80g cooked chicken breast, sliced
20g of pesto
1 cherry tomato, sliced
What you'll need
This diet-friendly recipe is possible with:

Original Lo-Dough Bases
Regular price
from £3.49
Out of stock
Method
Preheat your oven to 220°C/428°F.
Spread the passata across the Lo-Dough in a thin layer, right up to the edge.
Spread the cheese around the pizza. Mix the chicken with the pesto and then add to the pizza with the sliced tomato.
Bake in the oven for 7-10 minutes, or until golden and bubbling. Serve with a crack of black pepper on top.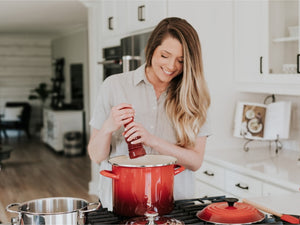 Hungry for more recipes?
Join over 200,000 subscribers in receiving new recipes, tips, offers and a whole lot more.