Chicken coated in Blend Bros Peri Peri sauce on a low calorie pizza (with even more Peri Peri), loaded up with sliced green and red chillies - this one is heaven on earth for those who like a little spice in their life. You can have it hot and also have it healthy, with Lo-Dough as your base, you can top up with so much more leeway, even sticking to your fitness goals or calorie-counting plan. Delicious!
Low fat pizza bases mean delicious toppings 
Buy low fat pizza bases (Lo-Dough, naturally) which are super high in fibre to keep you full. The freedom which this brings when it comes to toppings is immeasurable. This low-carb peri peri chicken pizza is certainly no exception; it's delightfully low-carb low calorie, yet has a substantial 44g of protein - this is really on plan for the gym lovers and slimmers.  
Check out more low calorie pizza recipes
Ingredients
1 piece of Lo-Dough, lightly fried with spray oil in a pan
100g of chicken breast slices (cooked)
3g of thinly sliced red onion
10g of thinly sliced pepper
1 heaped tbsp of passata
30ml of Blend Bros Piri Piri Sauce (plus a little extra to garnish)
60g of grated mozzarella
1 red chilli, sliced
1 green chilli, sliced
A good pinch of smoked paprika
A twist of black pepper
What you'll need
This diet-friendly recipe is possible with:

Original Lo-Dough Bases
Regular price
from £3.49
Out of stock
Method
Preheat your oven to 250°C/475F/Gas 9.
Mix the passata and half the piri piri sauce and spread across the Lo-Dough in a thin layer, right up to the edge.
Coat the cooked chicken in the remaining piri piri sauce.
Spread half the cheese on top of the sauced base and add the chicken, pepper, onion and chillis. Add the other half of the cheese, sprinkle with the paprika and then put the pizza in the oven for 7-9 minutes or until golden and bubbling.
Serve with a crack of black pepper.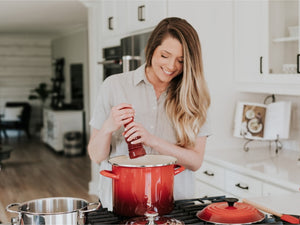 Hungry for more recipes?
Join over 200,000 subscribers in receiving new recipes, tips, offers and a whole lot more.