Our low carb wrap is filled with sea food and sauce - it makes the perfect simple lunch
No need for scrimping on the tasty sauce that makes this classic 70's dinner party dish so good. What's more, there's no need for cocktail glasses here - Lo-Dough turns this prawn cocktail into a portable lunchtime snack. Succulent prawns, crisp baby gem lettuce and a deliciously tangy sauce that makes the whole thing come alive, all for 240 calories and only 5g of carbs - plus 26g of protein. 
Making your own Marie Rose sauce recipe
We made our own Marie Rose sauce (ketchup, mayonnaise, Worcester sauce, Tabasco, horseradish, lemon juice - there are plenty of recipes available online) which allows you to make it to your taste, but for a busy home cook, we've just listed a supermarket's premium brand jarred product instead. 
There's only one thing that can make this recipe sing any louder - and that's eating it outdoors in the sunshine. 
See more info on how to use Lo-Dough here.
Ingredients
1 piece of Lo-Dough
100g of raw king prawns, shelled
Half a little gem lettuce, shredded
1 tablespoon of premium Marie Rose sauce
A pinch of paprika to garnish
Spray oil
What you'll need
This diet-friendly recipe is possible with:

Original Lo-Dough Bases
Regular price
from £3.49
Out of stock
Method
Spray a little oil into a frying pan and stir fry your prawns until cooked and they have turned pink. Ensure they are cooked through, but avoid overcooking as they may go0 chewy.
In a bowl, dress the cooked prawns in the Marie Rose sauce.
Place the salad onto the lo dough and the prawns onto the salad.
Garnish with a small pinch of paprika and serve.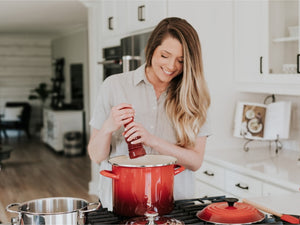 Hungry for more recipes?
Join over 200,000 subscribers in receiving new recipes, tips, offers and a whole lot more.