Check out these easy-to-make, protein-packed, low-carb donuts!
Using our Lo-Dough bases (blitzed to a crumb in a food processor), you can make incredible light and fluffy, low-calorie, low-carb and high protein donuts without compromising on flavour. 
Instead of deep-frying, you'll need a doughnut mould - easily available online for a couple of pounds. This means instead of submerging in hot oil, you'll be baking them - which means no frying oil (full of calories and often, trans fats).
Our naked protein donuts come in at 56 calories, 2g of carbs & 8g of protein. How you top them is up to you...
A little dusting of powdered erythritol sweetener (add 0 calories/carbs)

White chocolate and dark chocolate drizzle (add 68 calories/2g carbs)

PBfit peanut butter and grated dark chocolate (add 87 calories/5g carbs & 8g protein)
Recipe makes 6 mini ring donuts.
Ingredients
Serves 6
1 Lo-Dough Base, blitzed to a crumb in a food processor
1 large egg
5g baking powder
30g whey protein powder (vanilla flavour)
135g greek yoghurt
What you'll need
This diet-friendly recipe is possible with:

Original Lo-Dough Bases
Regular price
from £3.49
Out of stock
Method
Preheat your oven to 180°C/356°F/Gas 4.
Add the blitzed Lo-Dough, egg, yoghurt, protein powder and baking powder to a bowl and mix well.
Spoon the mixture into the silicone moulds. You should just slightly under fill the 6 moulds.
Bake for 10 minutes then take out. Carefully remove from the moulds and allow to cool on a rack.
They are tasty to eat as they are, but you can top with any tasty decoration you desire - see above for suggestions.
Store in a sealed container for up to 3 days in the fridge. Suitable for freezing.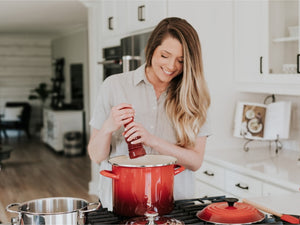 Hungry for more recipes?
Join over 200,000 subscribers in receiving new recipes, tips, offers and a whole lot more.