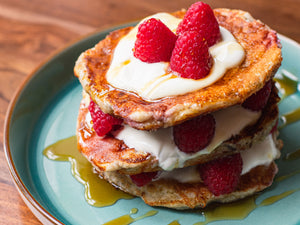 vegetarian
gluten-free
vegetarian
Low Carb Protein Pancakes (Vanilla and Raspberry)
Share
Facebook
Twitter
WhatsApp
Email
These protein-packed pancakes are perfect after a morning workout - or even without the workout! 
We all know protein is a major contributor to muscle recovery, but it's also a key ingredient to help achieve satiety (the feeling of fullness). 
Whatever your reason for getting added protein, these low calorie, low carb pancakes are the perfect delivery method. Quick and easy to make; you can even make them ahead and quickly reheat in the microwave when you need them. 
We've gone with vanilla and raspberry, but the flavour combos are your choice - whichever way you make it, Lo-Dough will naturally remove those pesky calorie and carbs. 
Ingredients
Serves 0
1 piece of Lo-Dough, blitzed to fine crumbs
1 large egg, beaten
100ml of milk
2 heaped teaspoons of erythritol sweetener (or any other sweetener of your choice)
20 sprays of spray oil (or if on a keto diet - use butter)
2 scoops of Vanilla protein powder (we used Protein World's)
80g raspberries
Method
In a bowl, mix the Lo-Dough, beaten egg, sweetener, protein powder, approx 2/3 of the raspberries and milk thoroughly. You should have a thick, nearly cake like batter (you can do all this in a Nutri-bullet/liquidiser for a smooth batter and add the raspberries afterwards).
Heat up a large frying pan (on a low heat) and spray approx. 10 times with the oil. Add four goods spoons of the mix into the pan to create 3-4 pancakes.
Once ready to turn, lift each pancake with a spatula and before flipping over, quickly add another couple of sprays of oil to the bit of the pan where it came from.
Once ready add the remaining raspberries and serve as desired (creme fraiche, yoghurt, etc)
MAke ahead and keep pancakes in the fridge. Reheat in the microwave. Always use a non-stick pan for pancakes!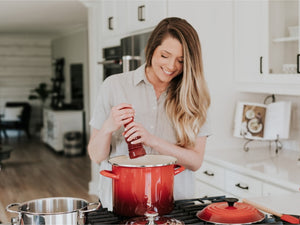 Hungry for more recipes?
Join over 200,000 subscribers in receiving new recipes, tips, offers and a whole lot more.