For low-carb pizza lovers, you know this one makes sense!
This beautiful pizza is simplicity on a plate. Sausage, kale, cheese, sauce and Lo-Dough. By all means mix and match the sausages... it's a great way of using up any cold leftover sausages you might have in the fridge. It would work equally well with continental sausages too (Chorizo, salami, merguez etc). Don't pre-cook the kale. The beauty here is that the raw kale crisps up and makes for a nice textural addition to the pizza. 
Ingredients
Serves 1
1 piece of Lo-Dough
70g of grated mozzarella
2 tablespoons of passata
75g of sausage meat
20g of kale, torn/chopped
A few sprays of oil
What you'll need
This diet-friendly recipe is possible with:

Original Lo-Dough Bases
Regular price
from £3.49
Out of stock
Method
Preheat your oven to 220°C/ 428°F/Gas 7.
Quickly fry your sausage meat in the spray oil until cooked.
Spread the passata on the smooth side of your Lo-Dough, spreading right to the edge. Then add your grated mozzarella, again, right to the edge.
Top with the sausage and kale.
Bake in your oven for 7-10 minutes, or until golden and bubbling and serve straight away.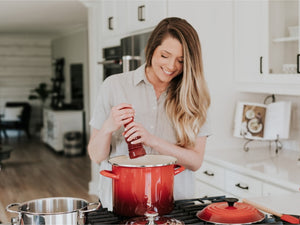 Hungry for more recipes?
Join over 200,000 subscribers in receiving new recipes, tips, offers and a whole lot more.