For the carnivores among you, this low-carb stuffing would be perfect for Christmas and beyond
This force-meat stuffing is a brilliant way to bulk up the protein component of any roast dinner, while adding serious flavour to your plate. The beauty of a stuffing is it is totally customisable. You can add fruits, herbs and spices to match to the meat you are serving it with and by making it with Lo-dough instead of the usual breadcrumbs, you will ditching the carbs and boosting the fibre content of this awesome accompaniment. 
We recommend cooking stuffing separately to help the bird cook quicker and more safely - check out our guide to the ultimate roast turkey and gravy.
Ingredients
Serves 2
1 piece of Lo-Dough, blitzed to a crumb
4 low-carb sausages (we used Heck), taken out of their skins
Half an onion, finely chopped
A tablespoon of fresh sage, finely chopped (or approx half a tablespoon of dried sage)
A tablespoon of parsley, finely chopped
Salt & pepper
A few sprays of oil
What you'll need
This diet-friendly recipe is possible with:

Original Lo-Dough Bases
Regular price
from £3.49
Out of stock
Method
Preheat your oven to 200°C/392F/Gas 6 (If serving alongside your roast dinner, put the stuffing into the oven for the last 30 minutes of cooking).
Fry off you onion on a gentle heat until softened. Add the sage for a minute or two before removing from the heat.
Add the blitzed Lo-Dough, the sausage meat, the onion mix and the chopped parsley. Add salt and pepper to taste.
Put into a lightly sprayed dish to cook - dont compress too much, its nice to leave a slightly open texture. Spray the top with a little oil and put it into the oven to bake.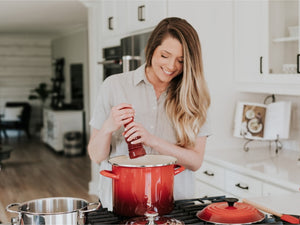 Hungry for more recipes?
Join over 200,000 subscribers in receiving new recipes, tips, offers and a whole lot more.