Use our Vanilla Sponge Mix to make show-stopping low carb muffins, ready to slather in cream and jam. 
Time for a cream tea! Oh yes, debates may rage on whether its jam or cream first, but there is no debate over who makes the best low carb (and low calorie) scones - or in this case, muffins! The base recipe suits both diets - how you dress them (cream, fruit, jams) is what will determine the macros in the end. 
All made with our just-add-water, low calorie sponge mix
This is all thanks to our incredibly versatile Vanilla sponge mix combined with a zero sugar, fresh jam/compote (just cook down your raspberries with erythritol and store in the fridge for up to 3 days). You can find low sugar jams on the supermarket shelves too, but these might not be suitable for stricter keto diets. 
You're gonna love these - but seriously, what will it be? Cream first, or jam..? 
Ingredients
Serves 5
1 Lo-Dough Vanilla Sponge Mix
240ml water
1 tablespoon of jam and clotted cream per muffin
What you'll need
This diet-friendly recipe is possible with:

Lo-Dough Vanilla Sponge Mix
Regular price
£2.50
£5.49
Out of stock
Method
Preheat your oven to 180°C/Gas 4.
Make up the Vanilla Sponge Mix with the 240ml of water as per packet instructions.
Add 6 even blobs to a lightly greased muffin tray. Bake for 30 minutes or until lightly golden. Allow to cool for at least 15 minutes before serving. Slice in half and layer up with the clotted cream and jam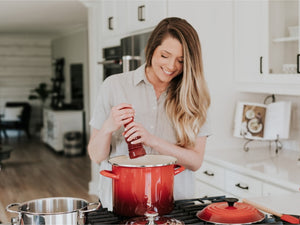 Hungry for more recipes?
Join over 200,000 subscribers in receiving new recipes, tips, offers and a whole lot more.