An Amazing Low-Carb Lunch Idea
Eaten warm and fresh, this quiche really is something else... smokey from the fish and with a hint of sweetness from the leeks. But the beauty is it also makes a portable lunchtime treat - great for taking into work the next day!
It'll only take 20 or some minutes to prepare and then another 30 minutes to cook in the oven and for that little bit of effort, you will be rewarded with 4 portions of lovely smoked haddock and leek quiche. 
Ingredients
Serves 4
1 piece of Lo-Dough
3 eggs, beaten
150ml of milk
100g of smoked haddock
40g of cheddar cheese, grated
Half a large leek, finely sliced
A small handful of chopped parsley and chives
Salt & pepper
Spray oil
What you'll need
This diet-friendly recipe is possible with:

Original Lo-Dough Bases
Regular price
from £3.49
Out of stock
Method
Preheat the oven to 160°C/325 F.
Roll out your Lo-dough flat and it into a 7 inch tin. Make sure to do this evenly, taking care to push it into the corners and create an upright edge.
In a frying pan, gently fry the leeks for a couple of minutes in the spray oil. Then addd the milk and bring to the boil. Add you smoked haddock fillet and turn the heat right down to gently poach the fish - this should take 5-7 minutes.
Lift out the fish and flake. Pour the leeks and milk through a sieve to separate, and keep both. Whisk the three eggs and add the milk to make a smokey flavoured custard. Season to taste.
Arrange the flakes of fish and the leeks in your quiche base.
Carefully pour the egg mixture over the haddock and leeks and top with cheese.
Bake in the oven for 30-35 minutes. Take out and allow to cool on a rack for at least 10 mins. Enjoy warm or cold!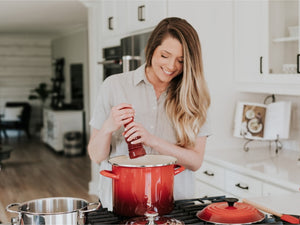 Hungry for more recipes?
Join over 200,000 subscribers in receiving new recipes, tips, offers and a whole lot more.